Imprint price tags with store name or logo, advertising that works every day at a very cost effective price.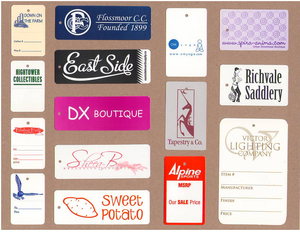 Let Retail Tag Manufacturing Corporation provide you with a price tag that will do what you want it to do. We customize price tags to make the best use of your logo, colours and will set copy to make sure your price tag will say all you want it to say. 
Don't be afraid to ask the impossible.We also have a large supply of stock price tags and accessories on the premises.
Learn More About Customized Tags
Retail Tag Mfg Corp has been in the business of supplying pricing products since 1979.
Retail Tag Mfg. Corp.
320 Don Park Rd., Unit #12,
Markham, Ontario, Canada,
L3R 1J4
In Canada & The U.S.A. Phone: 1-800-565-9530
In The Greater Toronto Area Phone: 905-475-9530
Email: info@retailtag.com